Home
Details

Written by

Joël Cugnoni

Category: News
Hits: 44127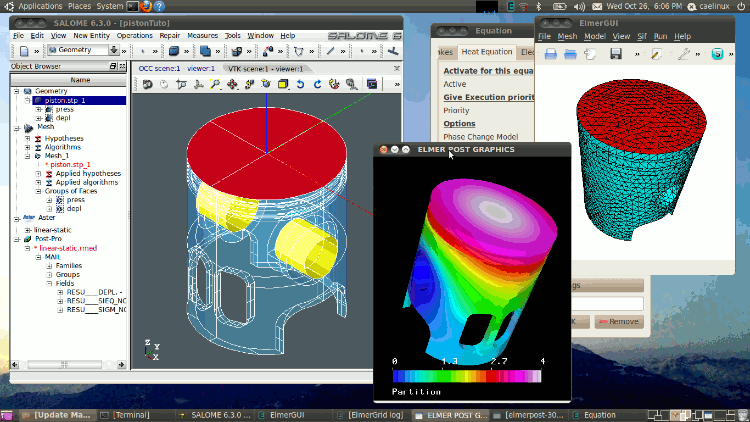 Welcome to CAELinux.com, the website dedicated to the open source computer aided engineering Linux distribution CAElinux.
Thanks to Open Source, now you just need to insert the CAELinux LiveDVD in your computer to turn it into a free and open engineering development workstation with CAD, CAM, CAE / FEA / CFD, electronic design and 3D printing  features: no licence and even no installation is required !

Based on the open-source CAD/CAM software such as Freecad, LibreCAD, PyCAM and Slic3r and CAE softwares like Salomé, Code_Aster, Code_Saturne, Calculix, OpenFOAM and Elmer , you can design  your CAD geometry, perform multiphysics simulations to optimize your design, generate G-code for prototyping with 3D printing & milling, and even develop your own PCBs & microcontroller based electronic circuits for automation.
For example, using Freecad, you can design your parametric CAD geometry with ease,  generate a computation mesh and setup your simulation problem in Salome-Meca in a few minutes. After your design is checked you can go on  preparing a G-Code for CNC milling a prototype with PyCAM or 3D printing it with Slic3r.
With the integrated open-source tools of CAELinux, you can simulate incredibly complex physics with the open-source FE & CFD solvers Code_Aster, Code-Saturne, OpenFOAM & Elmer: non-linear thermo-mechanics, coupled fluid-structure dynamics, seismic / non-linear explicit dynamics, contacts, visco-plasticity, fluid dynamics, heat exchange, convection heat transfer and radiation in other words nearly all physics problem can be addressed with the integrated solvers!! Then reload your results files in post-processing applications like Salomé, GMSH or Paraview to visualize your data in 3D... And don't forget all these features are based on open-source / free softwares, so now you don't have to pay for any expensive licenses and if you want, you can even improve it.
For more information, have a look at the following presentation of CAELinux
Details

Written by

Joël Cugnoni

Category: News
Hits: 20723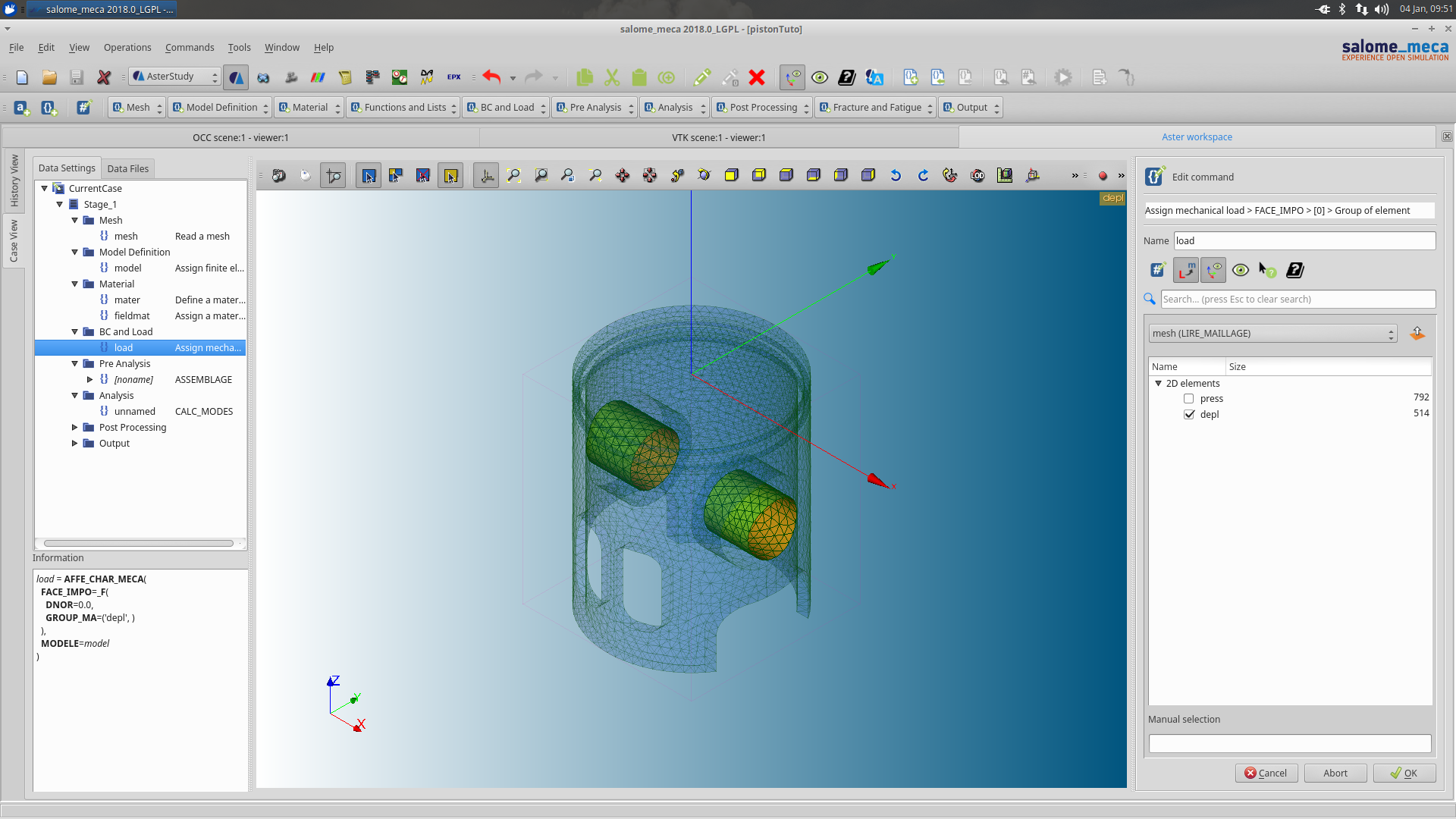 We are proud today to announce the new release of CAELinux 2018, which is based on Xubuntu 16.04 and contains a full suite of open source simulation tools for FEA, CFD or multiphysics simulation but also a large panel of other engineering software for CAD-CAM & 3D printing, electronics, mathematics & programming.
CAELinux 2018 represents a complete rebuild of the distribution that started in 2017 with up-to-date software and we hope that you will enjoy it. This release is available as usual in the form of  an liveDVD ISO image for AMD/Intel 64 bit CPUs that can be burned on a DVD or installed on a USB key for "mobile" use and testing and then installed on hard-disk for best performance.
For downloads: caelinux.sourceforge.net
More details: CAELINUX 2018 release notes (forum)
Features
LiveDVD distribution based on Xubuntu 16.04 LTS 64 bit with XFCE lightweight desktop
Available as an installable ISO image for DVD/USB flash drive; ready to use on laptop, workstations or even clusters (with OpenMPI)
Runs directly from the DVD or from USB key without any installation
For best performance: installation to hard disk with the simple Ubuntu installer
Offers a complete platform for open source engineering development: Computer Aided Design & Manufacturing (CAD/CAM) and simulation (CAE, FEA / CFD), electronics design, scientific computing,  programming and mathematical modelling
CAD/CAM & 3D printing: Freecad, OpenSCAD, LibreCad, Pycam, Camotics, dxf2gcode & Slic3r
FEA, CFD & multiphysic simulation: Code-Aster, Code-Saturne, OpenFOAM, Elmer FEM, Calculix, Impact FEM, MBDyn
Meshing, pre-post, & visualization: Salome-Meca, Paraview, Helyx-OS, Elmer GUI, Tetgen, CGX, GMSH, VoxelMesher
Electronic design and prototyping: KiCad, Arduino, Flatcam, dxf2gcode / cadpy for PCB isolation milling.
Scientific & development tools: Python / Scipy with Spyder, GNU Octave, R, Scilab, wxMaxima, Qt Creator, gcc, gfortran, java, g++, perl, tcl/tk
Details

Written by

Joël Cugnoni

Category: News
Hits: 8317
After a long break, we have the pleasure to let you know that a new release of CAELinux is in development. Based on Xubuntu 16.04 64bit, the new release will propose an up to date suite of open source computer aided engineering applications such as :
Finite Element simulation:
Salome-Meca 2017 with the new GUI module AsterStudy
Code-Aster 13.4 FEA (MPI version)
Elmer FEM multiphysics solver
Calculix with CalculixLauncher GUI
Computational fluid dynamics:

Code Saturne 5 Finite Volume CFD solver (MPI parallelism) with Salome & Paraview Pre-Post
HelyXOS GUI (hex dominant mesher, preprocessor) with OpenFOAM CFD solver (MPI)
Javafoil, XLFR5, XFoil
CAD/CAM & Electronics
Freecad stable version with Openscad & FEA module
Salome CAD & mesher
LibreCAD / Inkcape for 2D drawings
Pycam, Flatcam, HeeksCNC, pcb2gcode CAM preprocessors, Camotics 3axis milling simulation
Kicad EDA, Arduino IDE
Mathematics, Scientific tools & Development
Octave, Scilab, R, RkWard &Rcmdr, wxMaxima, Spyder / Scipy & Python, Gnu compilers for C/C++/Fortran
Latex & Texmaker for scientific editing
Libre Office suite
Jabref literature database manager
and many more...
You can now download and try the current beta version from here:
CAELinux 2017 Testing on Sourceforge.net
We expect to finalize this new version by end 2017 or early 2018.