Home
Details

Written by

Joël Cugnoni

Category: News
Hits: 36430
Although seriously delayed, we are pleased  to announce our new release CAELinux 2013
CAELinux 2013 is based on Ubuntu 12.04 LTS 64bit distribution and contains a unique suite of open source simulation tools for FEA, CFD or multiphysics simulation but also a large panel of other engineering software for CAD-CAM & 3D printing, electronics, mathematics & programming . CAELinux 2013 represents a complete rebuild of the distribution with up-to-date software for a better support of modern hardware and a significantly enhanced ease of use, and we hope that you will enjoy it.
This release is available in the form of  an liveDVD ISO image for AMD/Intel 64 bit CPUs that can be burned on a DVD or installed on a USB key for "mobile" use and testing and then installed on hard-disk for best performance. A virtual machine image for use on Amazon EC2 (standard and cluster instances) is also available.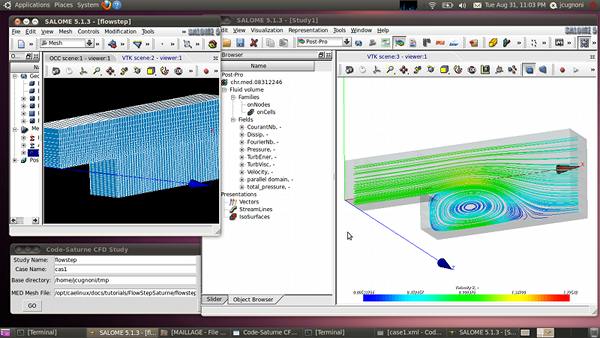 Interested ? Get your copy of CAELinux 2013 here
Details

Written by

Joël Cugnoni

Category: News
Hits: 44950
CAELinux on Amazon Elastic Cloud Computing infrastructure
Do you wish to run a large simulation job but you cannot afford to pay for an high-end server with 64gb of RAM? You CFD simulation are taking days on your laptop and you would like to speed-it up using an "on-demand" Cluster?
CAELinux in the Cloud may be the solution you were waiting for !
Using Amazon Elastic Compute Cloud, you can now run as many CAELinux servers, on-demand, with the hardware  that fits your simulation needs (up to 8 cores / 64 GB RAM) and this just by paying the server hours  !
Update: for an up to date procedure please follow this thread on the forum
Details

Written by

Joël Cugnoni

Category: News
Hits: 110666
Here are several screenshots of some FE analysis done with CAELinux